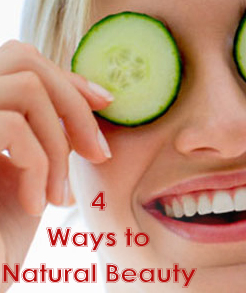 All of us want to be a natural beauty! Sometimes getting all dolled up can be a little time consuming, so why not show off your natural stunning beauty with a few of these amazing tips. Take off your makeup and show your beauty to the world!
Soothing Oatmeal Face Wash
I love this face wash it's an easy and effective to create a natural beauty! This soothing face wash will give you natural glowing skin. All you have to do is use some uncooked oatmeal and add a touch of warm water and gently scrub your face. Oatmeal helps reduces redness and dry skin. Take off that foundation/ concealer of yours and show off your natural glowing skin!
Sun Kissed Glow
If your wanting to get a summer time tan, without the harsh UV rays try this little secrete of mine. Add a touch of cinnamon to your moisturizer (preferably one with SPF) to give a hint of color to your skin. I always recommend using organic sunscreen or lotion, especially for those who have sensitive skin.
Drink Lots Of Lemon Water
Everyone loves a lemon to add to their water for that amazing taste. But did you know that there are so many skin benefits that come with drinking lemon water? Drinking this power drink will boost your metabolism and clear your skin from blemishes! I have done this for months and my skin is clearer than ever!
Hair Masks
Keep your hair smooth, healthy and shinny with natural hair masks. One of my favorite hair masks is by simply mixing honey and olive oil together in a mixing bowl. Put it in the microwave for about 20 seconds until it is warm. Apply to dry hair and let it sit for about 25-30 minutes. Wash it out with your favorite shampoo and you will have gorgeous hair! Do this 1-2 times a week.
Try these amazing tips and start showing off your natural beauty!