A white pencil!! Brighten up your eyes with a white eyeliner pencil around your lid.  Ok, maybe this isn't a huge surprise, but it is amazing what a little white (and peach and cream) can do.  
You can use a white eyeliner especially if you have small or deep set eyes.  Use it on the inside of your eyes to brighten your eyes and give them the illusion of being larger and brighter.
I use white eyeliner up by my eyebrow to  accentuate my eyshadow and make them pop.  Keep in mind, this only looks great with well groomed eyebrows.  Keep those things in check, people!
You can also use a white liner around your eyes.  Be sure that you use black and white, or a darker with the white or you are going to look like some sort of non-living creature.  Use the dark eyeliner next to your lashes, and fade into the white.
If you have big eyes, you may be going for a different effect.  Be careful to only use the pencil to accentuate the features of your eyes that you want, and de-emphasize the size by using the white pencil on the outside of your eyes.
I would recommend the MAC Eye Kohl Fascinating.  It is a great brand, great pencil and I love the Fascinating white.  Another one of my favorites is Benefit Cosmetics Eye Bright Pencil.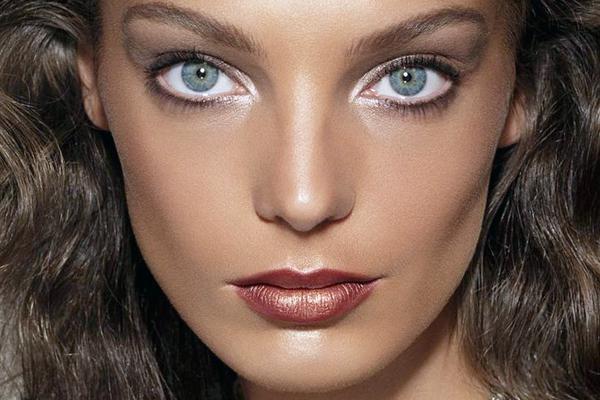 Image from Redefining the Face of Beauty