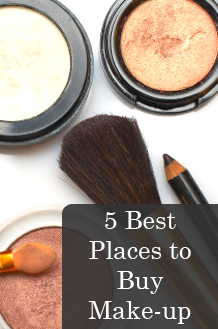 Often, I am asked where I buy my makeup.  I will tell you.  In no particular order.
We just got a Sephora nearby, and I am in love.  They sell brands like Urban Decay, Kat Von D, BareMinerals, Dior, Nars, Tarte, Buxom an Make Up For Ever.  I looked up 3 different make up products on Amazon and the prices were higher than at Sephora!  Whaaat?  So, there you go.  Buy from Sephora instead.  That's right.  I was surprised, too.
Beauty.com Is also a great place to buy makeup online.  There are a few things you need to know about it though.  It is a less expensive route when it comes to ordering make-up, but the shipping is sloooow. I'm much too impulsive for this option.
Amazon–  Of course, you can find really great products on Amazon, but there are products that you can't.  I love Amazon Prime if you aren't looking for a storefront.
Walgreens– If you are looking for drugstore makeup, this is a good place.  They are cheap, have a wide selection, a good return policy and there is one local to most areas of the U.S.
Nordstom– It just had to be said.  I love this place.
Ulta– Great selection, standard high-end makeup prices, but you get to try everything out before you buy, which is good when you are trying something new or looking for new products.