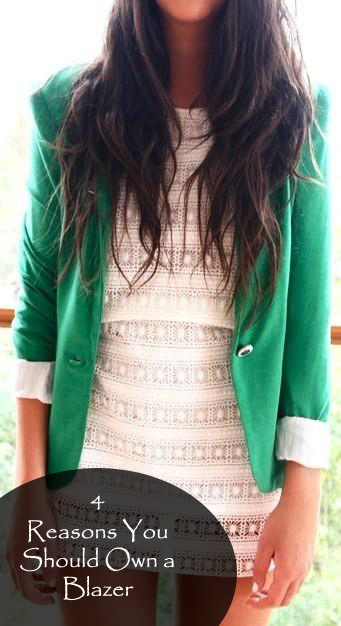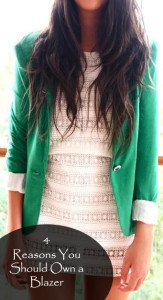 Spring is on its way meaning blazers are starting to come out in our favorite stores.  One of the biggest trends for spring clothing this year is a fashionable blazer, one of my favorite pieces of clothing to own. Blazers are so chic and classic, why wouldn't you want one? Try some on, and even try finding blazers that have bright and bold colors. You can NEVER go wrong with wearing a blazer and that's what I love about them! Here are 4 reasons why you should own a blazer!
You Can Dress Them Up
Going somewhere fancy? Put on a cute flowy top, a sexy pencil skirt, and top it off with a stylish blazer. Add fun pieces of jewelry to give it your attire some sparkle! This look is very easy to achieve, and a great way to show off your style this spring.
You Can Dress Them Down
Maybe you want to go with more of a casual look, don't think that blazers are made for special occasions. You can easily wear them for more of a laid-back look. which I love! Put on a cute loose top, and a pair of shorts or pants and add a chic blazer to your outfit. Fun, easy, and fashionable!
Looks Good On Anyone
Blazers give us a classical look that almost seems like they were made for our bodies. Blazers compliment our bodies to appear slimmer and give us that beautiful body shape that girls dye to have. For me, it's hard to find clothing that has a great fit; blazers have never been an issue. Try one on, and you may just fall in love!
Easy to Find And Affordable
The best part about buying a blazer is you won't regret spending tons on money on one piece of clothing in order to look fashionable. You can find blazers almost anywhere, the key is to take your time and check out stores that sell them cheaper than others. Trust me it's worth it. H&M has a great selection and they are very affordable! So take your time to find the best deals and save that money of yours!